Pete LaBonne's "Gigunda" box set includes MP3s of 22 cds of music!
Each cd is available below as a high quality (320 variable bit mp3) digital download for $7.
You will be emailed a download link within 24 hours of receipt of your payment.
All 22 cds are available as high quality (320 variable bit mp3) digital files for $100.
You will be emailed a download link within 24 hours of receipt of your payment.
Buy the entire Gigunda digital box set for $100 (a $54 savings!) by clicking the PayPal button above.
Or choose from the 22 CDs shown below at $7 each
One song from each release is available as a free download. (click covers for enlargements)
---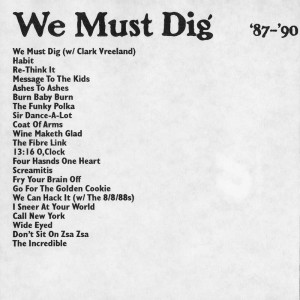 We Must Dig ($7)
During this time we were living half in New Orleans and half in the Adirondacks where we'd built a dirt floor screen house and an 11 X 11 studio straddling a gully, built of rummaged material, which shall be henceforth deemed The Hodge Podge Lodge. This collection contains the only song on Gigunda not recorded therein.
Choose one:
A. We Must Dig
B. Message To The Kids
C. I Sneer At Your World
D. other
clue: Clark Vreeland played drums on it.
TRACKS INCLUDE:
We Must Dig (recorded in Atlanta w/Clark Vreeland)
Habit
Re-Think It
Message To The Kids
Pete LaBonne - Message To The Kids
Ashes To Ashes
Burn Baby Burn
The Funky Polka
Sir Dance-A-Lot
Coat Of Arms
Wine Maketh Glad
The Fibre Link
13:16 O'Clock
Four Hands- One Heart
Screamitis
Fry Your Brain Off
Go For The Golden Cookie
We Can Hack It
I Sneer At Your World
Call New York
Wide Eyed
Don't Sit On Zsa Zsa
The Incredible
---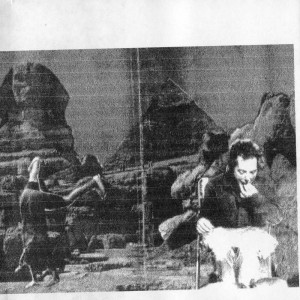 High Time ($7)
I found two guitars in somebody's trash around the corner from our New Orleans apartment. I took the head off one and put it on the neck of the other. Then tuned all the strings the same. When we returned to our Adirondack screen house, I used the unusable of the two to fix a hole in the canoe.
TRACKS INCLUDE:
High Time
Los Dos Vidas
X= Did Not Attend
Code Of The Great Outdoors
Gunning It In Neutral
Rankle Me
Featherhead Jones
Sixpaction
Who Dropped That Pin
Punk Rock Dressing Room
Shotgun
Forego The Knavery
Abdication Station
One Sixer Down
French Box
Fine Amnesia
My Clock Stops
Pete LaBonne - My Clock Stops
---
Blasting Cap ($7)
This was recorded just after we realized that we didn't need to rent apartments:
We own land.
On the way North in our '64 Wildcat with Georgia tag, Louisiana drivers licenses, and no insurance up on the Blue Ridge Parkway, the brakes failed. We cracked open some beers and found the clogged hose.
By the way, nothing cures a morning headache like a pair of Radio Shack headphones.
TRACKS INCLUDE:
The World Is Square
Slag Heap
Role Model Buick
Origin Of My Girlfriend
New Foundation
Sound Of Doom
Stroke Of Genius
How To Use It
Blasting Cap
Thank You, Girlfriend
Rock The Bone
Rumpus Room
Pitch Off
Alien Voyager
Pete LaBonne - Alien Voyager
Pavlov Cocktail
The Shakes
De-Activating The Program
Move Move Move
The Gov
Youngstrosity
---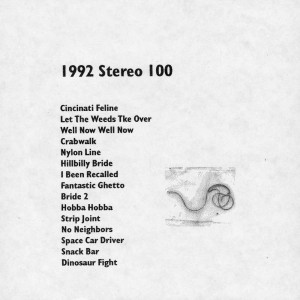 Stereo 100 ($7)
After our first Adirondack winter in the screen house, I played live to two hundred people, and got a little screwy I'm afraid. Sorry.
But I heard that the Black Crowes liked Hillbilly Bride.
A word to the wise: Blang is REALLY little.
TRACKS INCLUDE:
Cincinati Feline
Let The Weeds Take Over
Well Now Well Now
Crabwalk
Nylon Line
Hillbilly Bride
I Been Recalled
Fantastic Ghetto
Bride 2
My Type
Mutineer Stowaways
Febrile Lanugo
Hobba Hobba
Strip Joint
No Neighbors
Pete LaBonne - No Neighbors
Space Car Driver
Snack Bar
Dinosaur Fight
Blang
---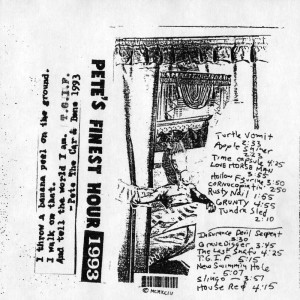 Finest Hour ($7)
Finally got a 335. And a Fostex spring reverb.
Sparks flew from my nostrils.
That year I used a Fender Rhodes for a while.
I was having a ball!
TRACKS INCLUDE:
Turtle Vomit
Apple Shiner
Time Capsule
Love Horse Man
Hollow Figurine
Pete LaBonne - Hollow Figurine
I'm Cornucopiating
Rusty Nail
Grunty
Tundra Sled
Insurance Devil Serpent
Grave Digger
The Last Snafu
T.G.I.F.
New Swimmin Hole
Slingo
House Red
---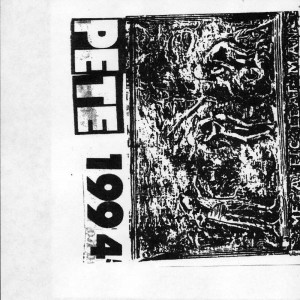 1994 Mega Fig Leaf Man ($7)
Still I'm using the Yamaha one & seven eighths i.p.s. 4 track here. This tape was probably a turning point in that I was starting to feel like I was Accomplishing something.
We bought a '66 Dynamic 88 at a junkyard. We'd driven to the junkyard in a borrowed '78 Riviera, black with red leather, trying to unload an '80 Regal, also black, with "fuck" scrawled into the hood, lots of serious problems and a fancy sound system. I'd already tried  leaving the keys in it at a mall.
TRACKS INCLUDE:
Hillbilly Coupe De Ville
Morning High
Pete LaBonne - Morning High
Down Where The Bitey Things Breed
Mega Fig Leaf Man
Do Dope
Snivelization
Days Of Yore
Space Capsule
Club Joker Is Wild
Trophy Bowler
I'm Glad It's Night
Magic Power
---
Yick Yack ($7)
1995, yeah, I got a faster 4 track, Fostex something, bongos, and a brand new Roland 500. This was the year our neighbor clear-cut the woods behind us. Lousy and sorrowful, but man, we was rockin'. Later we house-sat and helped start Margaret Explosion.
TRACKS INCLUDE:
On Sides
The F Word
Apres La Guerre
River Of Used Finishing Nails
That Would Get Some Jerk
School Bus Driver
The Driving
Fish The Lizards
Pete LaBonne - Fish The Lizards.mp3
Ain't That The Suck
Tse Tse Fly
Human Septic Tank
St. Peter's Alleyway
Ancient Of Days
Silhouette
Brain Dead
Mustard Gas Trench
Greatest Looking
Most Revealed
Yick Yack
---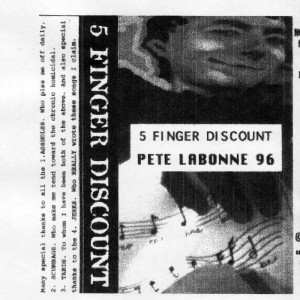 5 Finger Discount ($7)
Added an office desk. I might have gone bonkers on this one. Saw years later on the internet that someone in Brazil liked Soft Paper House. Makes sense. I pictured it at Mardi Gras.
It also contains the first 2 Ask Mr. Breakfast shows.
This might be my weirdest stuff.
TRACKS INCLUDE:
No Room
Strongy
Quel Heure Eet-Il?
Overture
Poor Little Flower
My Guess
Ask Mr. B. 5/8/96
Soft Paper House
Coffee Drum Roll
Trailer Hitch
Pete LaBonne - Trailer Hitch
Keel Haul
World's Fair 84
Lit Ther Be
Ask Mr. B 12/8/96
---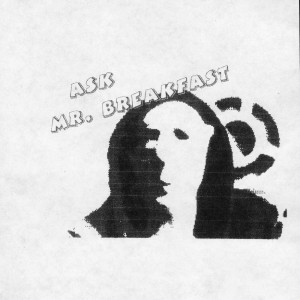 Ask Mr Breakfast ($7)
This was a regular Monday morning show. I would start preparing on Saturday. Then on Monday, I'd go to work. The David Seville of simpletext. Canceled  after 6 weeks.
TRACKS INCLUDE:
One
Two
Pete LaBonne - Ask Mr Breakfast2
Three
Four
Five
Six
---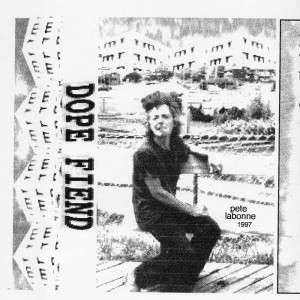 Dope Fiend ($7)
I'd just gotten back from doing a session in New Orleans with some pros. "Look at this crazy motherfuckin' hillbilly!" The black '69 Satellite made it back as far as Nashville.
The Fostex 4 track killed itself when this tape was complete.
TRACKS INCLUDE:
Speed Your Bingo 3:30
Terrible Thing 3:25
Mary 3:45
Ponytail 3:25
Wash Your Horse 3:10
Snack Bar 3:20
Pajama Pants 3:10
Al Di La 6:00
Dope Fiend 2:05
Carousel Microwave 2:40
Pete LaBonne - Carousel Microwave
Chrysler Torsion Bar 3:20
Critiquin The Blues 3:45
Mole Hill 2:50
That's Country! 2:55
Laid Low 5:15
No A.C.L.U. 4:25
Chew Gut Up 3:10
---
Ravioli ($7)
I picked up an extremely idiosyncratic Fostex reel to reel and an Alesis 16 track monolith with just enough tracks working to get by. Tape cost a dollar a minute. Worth it, I think. You? Actually changed the strings on the Jag.Had a crush on a waitress and scanned her ball point identification of the leftovers for the cover.
TRACKS INCLUDE:
Tow Away Zone
Pete LaBonne - Tow Away Zone
( The return of) The Return Of
The Semi Man
Take Back Last Night
Union Local
Sir Dance A Lot
Buick (Drive By)
Somebody Must Be Praying For Me
Feeder Canal
Mr. Lacrimose
Title Cut
I'm Going Blank
Honking The Troll
Cement Truck
I Was Only Fooling Myself
Clam Smear
---
Kinetic Argosy ($7)
The Vile, Evil, and Live tour.
It gave me permanent tinnitus and destroyed the Alesis board.
The last two songs were done with the wonderful Crest 12 track.
That board was so good I couldn't get a trainwreck out of it.
TRACKS INCLUDE:
Rock The Bone
Kryptonite Tonight
Hippie Head Trip
Origin Of My Girlfriend
I'm Falling Apart
The World Is Square
The Destructor
Pete LaBonne - The Destructor
Punk Rock Dressing Room
I'm Spying On You
Slag Heap
---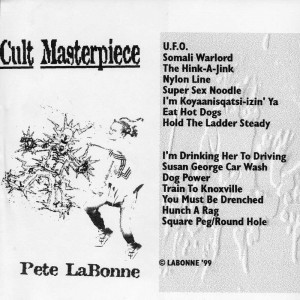 Cult Masterpiece ($7)
At the time of it's "release", someone called this "the most accessible so far". I'm not sure what that means.
It did have a cheerleader punching an electrified skeleton on the cover.
TRACKS INCLUDE:
U.F.O.
Somali Warlord
The Hink-A-Jink
Nylon Line
Super Sex Noodle
I'm Koyaanisqatsi-izin' Ya
Eat Hot Dogs
Hold The Ladder Steady
I'm Drinking Her To Driving
Susan George Car Wash
Dog Power
Train To Knoxville
You Must Be Drenched
Hunch A Rag
Square Peg/Round Hole
Pete LaBonne - Square Peg
---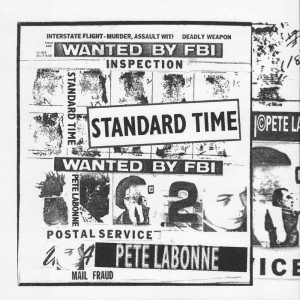 Standard Time ($7)
This one contains the only song I ever wrote to be a hit. It rocks pretty darn good. I'm not sure when I started using the A.R.T. effects unit but it's definitely here.I was happy to see winter coming on.
TRACKS INCLUDE:
Flashlight
The Rib Crib
Electraglide
The Row We Hoe
Fungoo School
Back On Track
Witch Hunt
Burn The Worm
Coyote
One Girl Away
Vindicated
Always Some Animal
Mongrel 900
Pete LaBonne - Mongrel Nine Hundred
---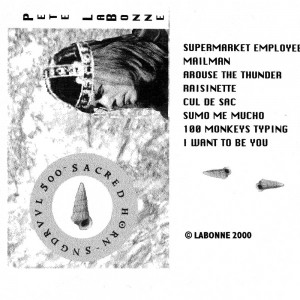 Sacred Horn ($7)
Named for the large diaphram condenser microphone
I started using instead of the Shure 57.
I was so pleased with this recording that I removed 4 songs.
TRACKS INCLUDE:
Supermarket Employee
Mailman
Arouse The Thunder
Pete LaBonne - Arouse The Thunder
Raisinette
Cul De Sac
Sumo Me Mucho
100 Monkeys Typing
I Want To Be You
---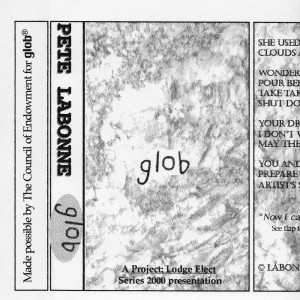 Glob ($7)
I usually finish a song in a couple hours.
This Glob contains a song which took 3 days to record;
just because I lacked the vocal range to toss off
a version of "Don't Dream It's Over.
TRACKS INCLUDE:
She Used To Walk
Clouds Are Overspreading
The Region
Wonderful Dynasty
Pour Beer On Each Other
Pete LaBonne - Pour Beer On Each Other
Take Take Take
Shut Down
Your Dreams
I Don't Wanna Get High
May The Coolest Thing
Go Down
You And Your Big Mouth
Prepare To Materialize
Artist's Statement
---
Lawnmower ($7)
Our neighbor, recently widowed, had taken to mowing her lawn daily. I grabbed this with a Shure 57 thru a Bellari, into a Tascam 102 cassette unit and filtered it from there.
Chandler told me "I put on that cd you sent and there was nothing on it".
He must have been driving.
TRACKS INCLUDE:
First Contact
Second Warning
Endgame
---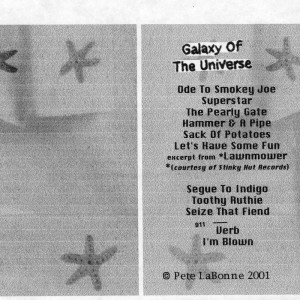 Galaxy Of The Universe ($7)
I recorded Seize That Fiend on 9/9/01 and drove to a gig in Boston promoting Meditation Garden on 9/14/01 in a white Crown Vic without tail lights and slept that night in the car. The girl who was sleeping in the car parked next to us woke up briefly, sat up straight, then I watched as her head slowly dropped onto the horn.
TRACKS INCLUDE:
Ode To Smokey Joe
Superstar
The Pearly Gate
Hammer & A Pipe
Sack Of Potatoes
Let's Have Some Fun
excerpt from *Lawnmower
*(courtesy of Stinky Hut Records)
Segue To Indigo
Toothy Ruthie
Seize That Fiend
Verb
Pete LaBonne - Verb
I'm Blown
---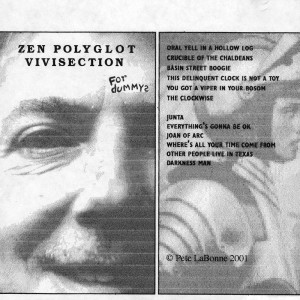 Zen Polyglot Vivisection ($7)
My Fostex A8 dropped down to A7 at this point, insuring that
I needn't think about going back to remix anything.
I had just started treating my glaucoma, so was kind of miserable and my eyes were hurting all the time. And she wants to go skiing!
TRACKS INCLUDE:
Oral Yell In A Hollow Hog
Crucible Of The Chaldeans
Basin Street Boogie
This Delinquent Clock Is Not A Toy
You Got A Viper In Your Bosom
The Clockwise
Pete LaBonne - The Clockwise
Junta
Everything's Gonna Be Ok
Joan Of Arc
Where's All Your Time Come From
Other People Live In Texas
Darkness Man
---
Predatory Lozenge ($7)
There was a snake in the house. I got a stick and wailed on it for a few minutes.
Funny thing, it never moved. My girlfriend came in to see what was going on.
She started reaching down to pick it up. I said breathlessly,
"Look out! It's tricky!", thinking, "cunning viper, alien mindset".
I was horrified when she picked it up. It was my shoelace.
This could be my most majestic offering.
TRACKS INCLUDE:
Molecule
I'm Sad
Don't Eat Worms
Jerky Turkey
Why Was I Born
(the "Bourj Gnong Gilly-O- Gröb
Fit The Fit The Fit" song)
Airlock
Jug A Hug
Pete LaBonne - Jug A Hug
Aint Broke
Honey, Let's Get Poor
Why Was I Born Part 2
(the "Bourj Gnong Gilly-O- Gröb
Fit The Fit The Fit" song Part 2)
---
Low Shoulder ($7)
All I needed to do to catch this one was open the window and hit the switch.
I used to play this at 3am for the Rottwielers chained up back through my 150 watt guitar amp.
TRACKS INCLUDE:
Low Shoulder
---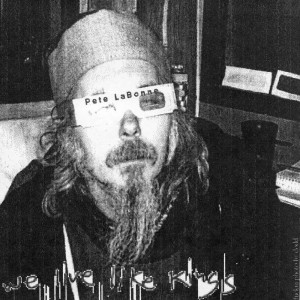 We Live Like Kings ($7)
Our home lost it's tranquility and we were looking for another place to live.
I was up in the loft yelling "What's that rumble!", and she yelled back
"Pete, you're shaking the whole house".
TRACKS INCLUDE:
We Live Like Kings
Move A Chair
Pete LaBonne - Move A Chair Around
I'm Drowning
I Got Made A Fool Of
Man Need Not Live
Turning The Page
---

Xtra Strength Mistletoe
" God, What have I done!" (Paul of Tarsus)

TRACKS INCLUDE:
Xtra Strength Mistletoe
Pete LaBonne - Xtra Strength Mistletoe
Then the white pine we'd always known was going to crush our house crushed our house.